Calgary 2.0 Project
I don't know about you but, I don't want to go back to 'normal' when this pandemic is over. It just wasn't that great. We accepted, without much question, inequality, disparity, pollution, exhaustion, disconnection, over-consumption and all the associated problems. It wasn't sustainable. Honestly, I am enjoying the slower pace. I'm making more connections despite the isolation and I'm breathing cleaner air with less traffic. I want our new 'normal' to include this, while also ensuring every Calgarian has a safe home, secure access to healthy food, and a good quality of life. So how do we go about doing it?
When we're in a hurry just trying to survive we're left with little time to dream. I think our relentless focus on keeping a roof over our heads and food on our tables in a dog eat dog world has stunted our ability to think critically. We suffer from a collective lack of imagination. We simply don't have time to envision anything better. But, we can choose to make Calgary better now. We can influence our leaders to take the right steps to build the city we want to live in a post-pandemic world.
I am creating a coffee table book about the world's greatest city - Calgary. This city doesn't exist yet but it will come to life through your vision. I want every empty plot lot, every traffic congested road, every community neighbourhood to be reimagined. Let's put those ideas on paper in the form of drawings and painting so we can all see and share in the vision. An illustrated compilation of ideas from artists, designers and trendsetters around the city will become an influential, grassroots tool we'll use to build a new and improved normal. It will be effective because it will represent what you, the citizens, actually want. It will be filled with your dreams - a Calgary 2.0!
To make submissions, email a jpeg or PDF along with a short written description to [email protected]. Written pieces or ideas about music, recreation, entertainment, fashion, maps, photographs, renderings, even recipes using local indigenous edible plants are all welcome. You will be notified if your submission is chosen to be included in the book. Copyright and financial compensation will be negotiated at that time. All submissions will be kept strictly confidential and will not be reproduced in any form without written consent. Submission deadline has been extended to August 15, 2020.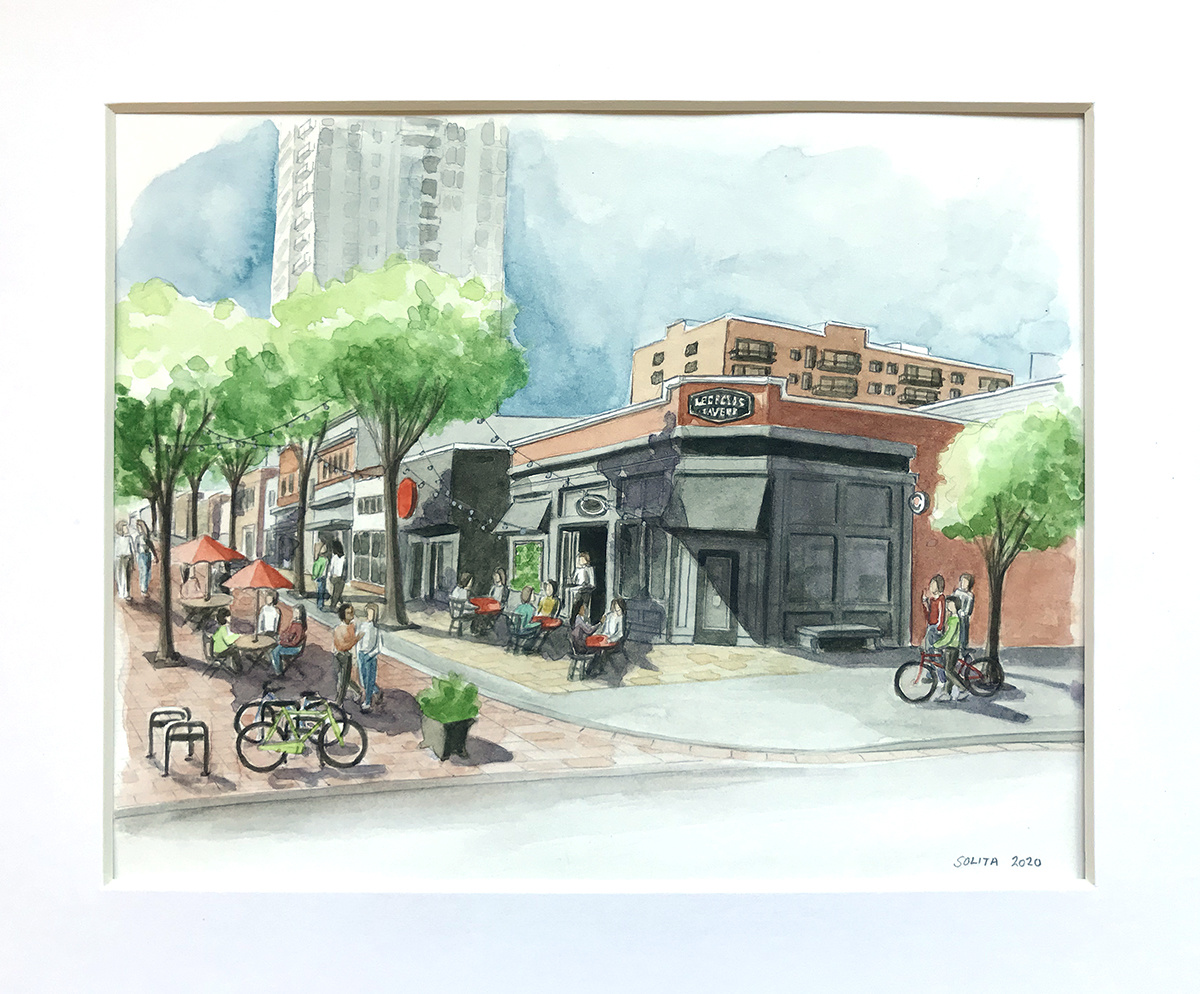 I have included my vision of the 1200 block of 1 Street SW as an example (see image) of what you might want to submit, but there are endless ideas. For example, you could reimagine what Memorial Drive would look like if there was no roads and just one big beautiful park, maybe you have an idea about future local fashion trends that might be specific to Calgary, what if city owned golf courses were converted to urban farms or what if tent camping was allowed in Nose Hill Park?